A Style is a set of design elements and formats that define the look and feel of the post. It can include fonts, headers, text and background colors, dividers, icons and snippets.
You can create unique Post Styles for different types of content. This flexibility is especially important when it comes to sponsored content.
Learn more about post styles for blog and media from this article.
How to create new style?
Login to editor.setka.io.
A new style can be added in your Style Editor (Styles > Create custom style). New styles will be in Draft until you activate them with the Publish button. You can't create new posts using a new style unless it is active.
Pro plans comes with five pre-configured styles that are available to you upon registration. These styles are labeled with our company logo

.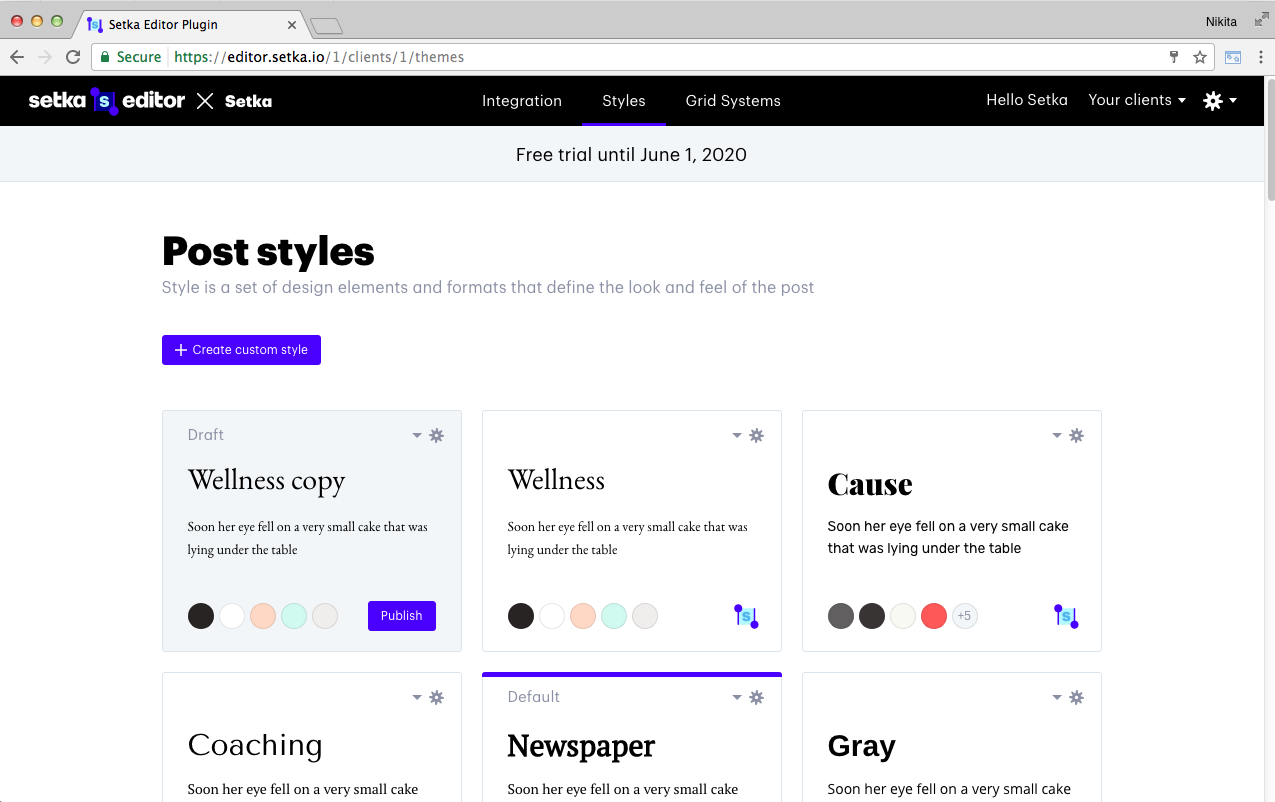 What is the default style?
When you click "Add New Post" in the editor, this style is selected by default. If you want to set another style as the default, select Styles in the Style Manager and choose which Post Style you would like to be the default style.
Do I need a different post style?
Your post styles include a number of design elements specific to that style. For each post type, you may want to consider a different style.
What happens if I change a style?
Any changes made to a Post Style will be applied to all posts made in this style. If you decide to delete elements or make significant changes, save the changes as a duplicate (Save > Duplicate style) to avoid damaging old posts that use this style.
If you haven't deleted anything or made significant changes you can save the changes in the same post style without affecting your published posts.
After updating the styles in the Style Manager, the old posts using these styles will not change immediately. The delay depends on the settings for updating the style cache on your server.
Pre-made styles can't be edited, and changes to them can't be saved. If you want to edit these styles, create a copy by clicking > ▼ > duplicate in the desired Post Style box.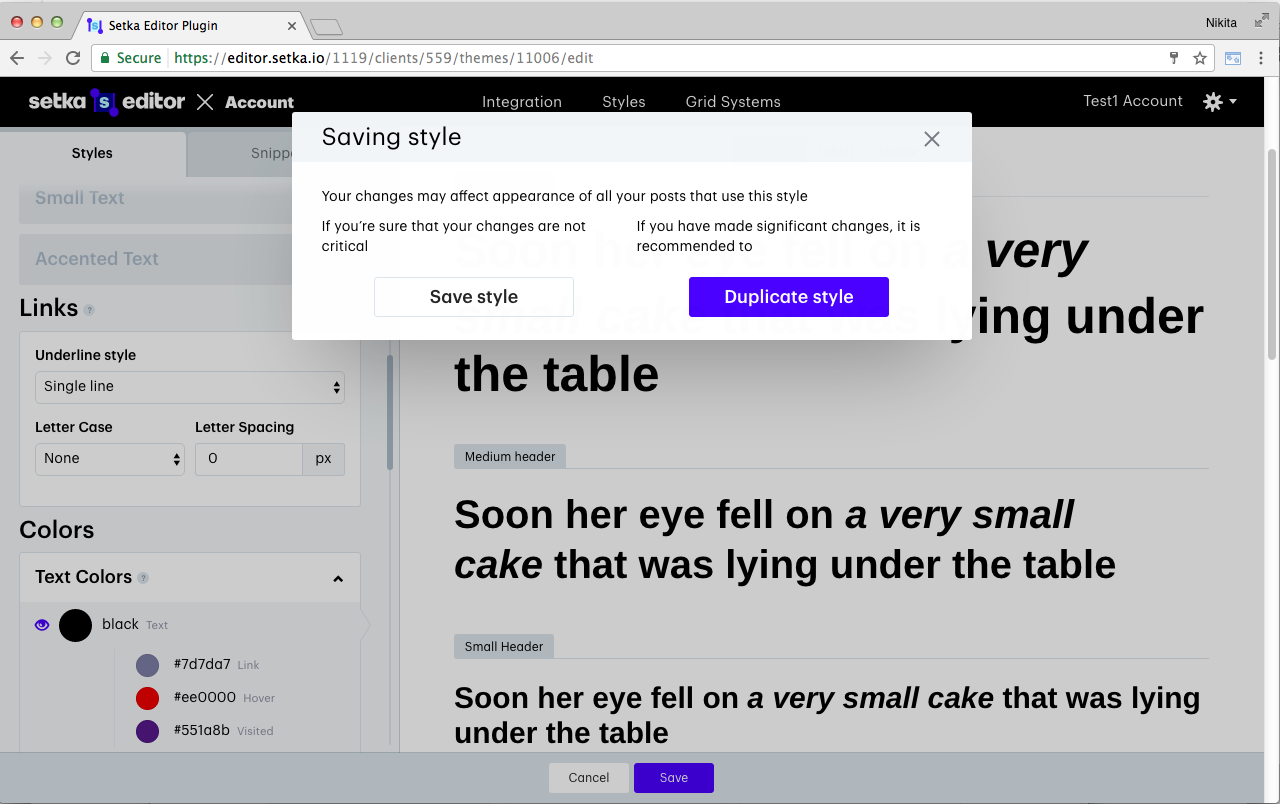 Examples of post style changes that could negatively impact already published posts:
Significant changes to the font size. As a result some words might not fit in the columns.

Deleting icons. For example, i

f you delete numerical icons, your post's structure might be lost.

Deleting dividers.

For example,

if you delete dividers for quotations, it will be unclear that this text is direct speech.
How do I save a post style?
At the present time, Style Manager has no autosave function. Therefore, always click Save after making any changes.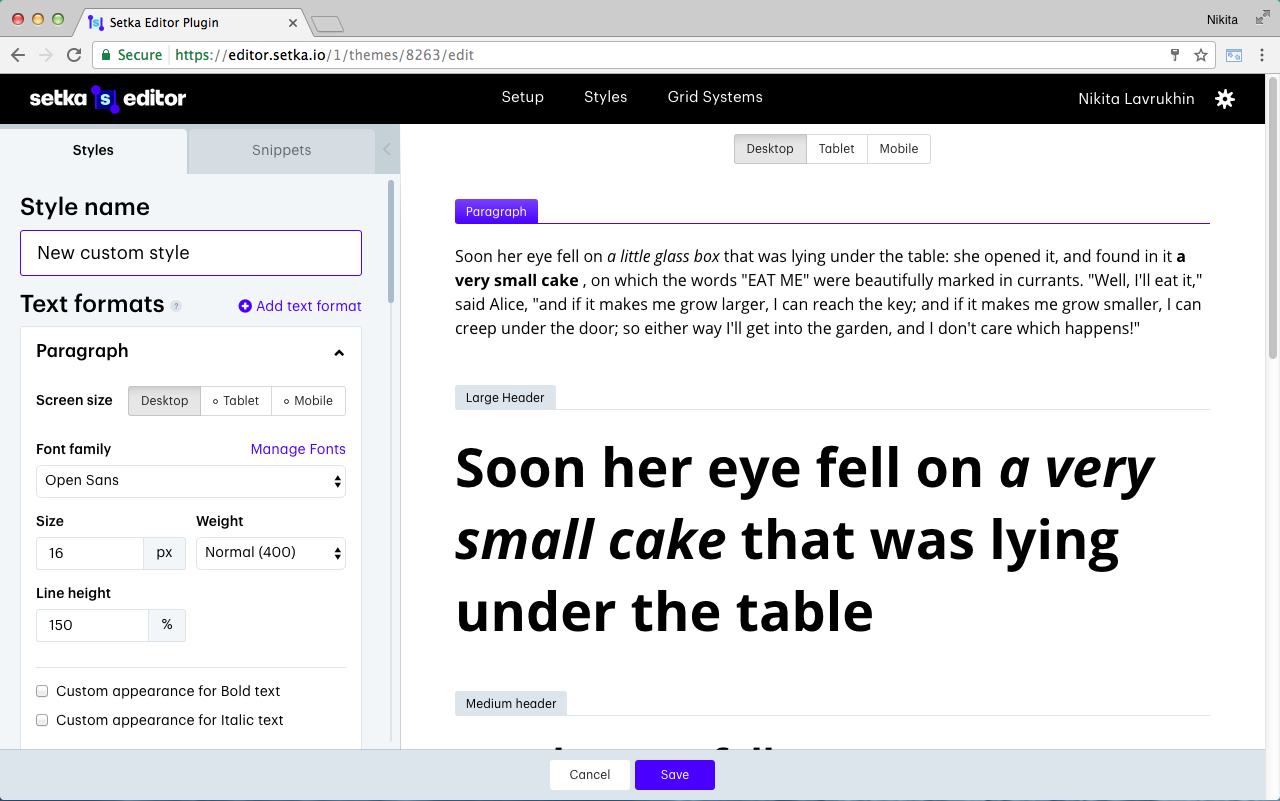 Can I delete a post style?
Yes, you can. However, you should make sure that no published posts use this style. Otherwise, such posts will loose their appearance.
How to disable a post style?
To disable a style, click Styles > ▼ > Disable in the desired Post style box on the Styles page.
When creating new posts, the disabled styles will not appear in the list. However, if post was initially created in a disabled styles, it can still be edited in this style.
Can I rename post styles?
You can change the names of styles that you created. Names of pre-made styles can't be changed unless they are duplicated.
Can I change the text in the preview box?
Yes, the preview text can be changed, any language can be used. To change it, click on "Edit" button — it will appear on hover on the preview text.
Type your text and save changes:


You can restore the default text at any moment by clicking on the "Restore default" button:

Can I use custom CSS to change styles?
Yes, you can. In order to do this, click the Custom CSS link in the bottom left panel of the Style Manager. In the pop-up window you can enter the CSS-code.
This function is required if you want to apply additional properties to style elements (for example, if you want to add quotes before the text in the Small Text format). By default, a check mark is enabled at the bottom of the window, which applies the written styles only for the post content. If you disable it, the styles will be applied to the entire page of the post, including the WordPress system elements.
How many styles can be created in the free version of Setka Editor?
You can create as many styles as you need on a Free tier. However, only 2 of them are able to stay active: one of our preinstalled styles and one of your custom ones. To use a new custom style, didable the one that is active at the moment.
Your plan may be downgraded automatically due to the following:
14-days Demo plan expiration.
14-days Trial plan expiration.
Non-renewal of your subscription plan.
To continue using several custom styles at once, renew your paid subscription. You will be able to activate your inactive styles after the renewal.