Aside from Wordpress, Setka Editor plugin can be integrated with other CMS: Joomla, Drupal, 1CBitrix, Typo3, etc.
Setka Editor is a WYSIWYG editor for online publications and blogs. It allows to establish a regular prompt release of beautiful and complex posts without any involvement of layout specialists and without pre-creation of layouts. Setka Editor consists of two parts:
JS editor built into the post editing page in CMS
Style Manager – a web interface at editor.setka.io for creating and editing a branded style of a publication. It allows to create post styles (fonts, headings, colors) and grids (setting parameters for columns, indents and spaces between columns).
Integration of Setka Editor and CMS is carried out in two stages:  
Integration with Style Manager for updating the editor and styles from the Style Manager account
Initializing the Setka Post Editor on the CMS post editing page
Account registration and completion
To start integration you have to create an account (if you don't have it yet) at https://editor.setka.io/signup. Fill in all required fields and contact us to activate fields for a custom integration in your account, so you will be able to provide us with urls to your server. editor.setka.io. 
What is required for integration:
Enter the license key. You may find the license key in your personal account. You need to create a  field in your CMS for entering the license key. It is not necessary to create a field in the interface, you can add it in the code only. License key is passed in GET/POST-requests you make to get Setka Editor files (see companies unique TOKEN in documentation).
Fill in all the fields* in the CMS Integration tab.
Editor config url - to receive and process updates of the styles created in the Style Manager in your CMS.
Company status url  - contains subscription information: whether a payment has passed or not, end of the trial period, etc.
Server status url - client information.
* Local hostnames (localhost, 127.0.0.1) will not be accepted. Domain name should be delegated to DNS-servers and resolve into public IP-address. In order to test Setka Editor on your local server, you should set up a tunnel to an external IP address (for example, try https://www.npmjs.com/package/localtunnel).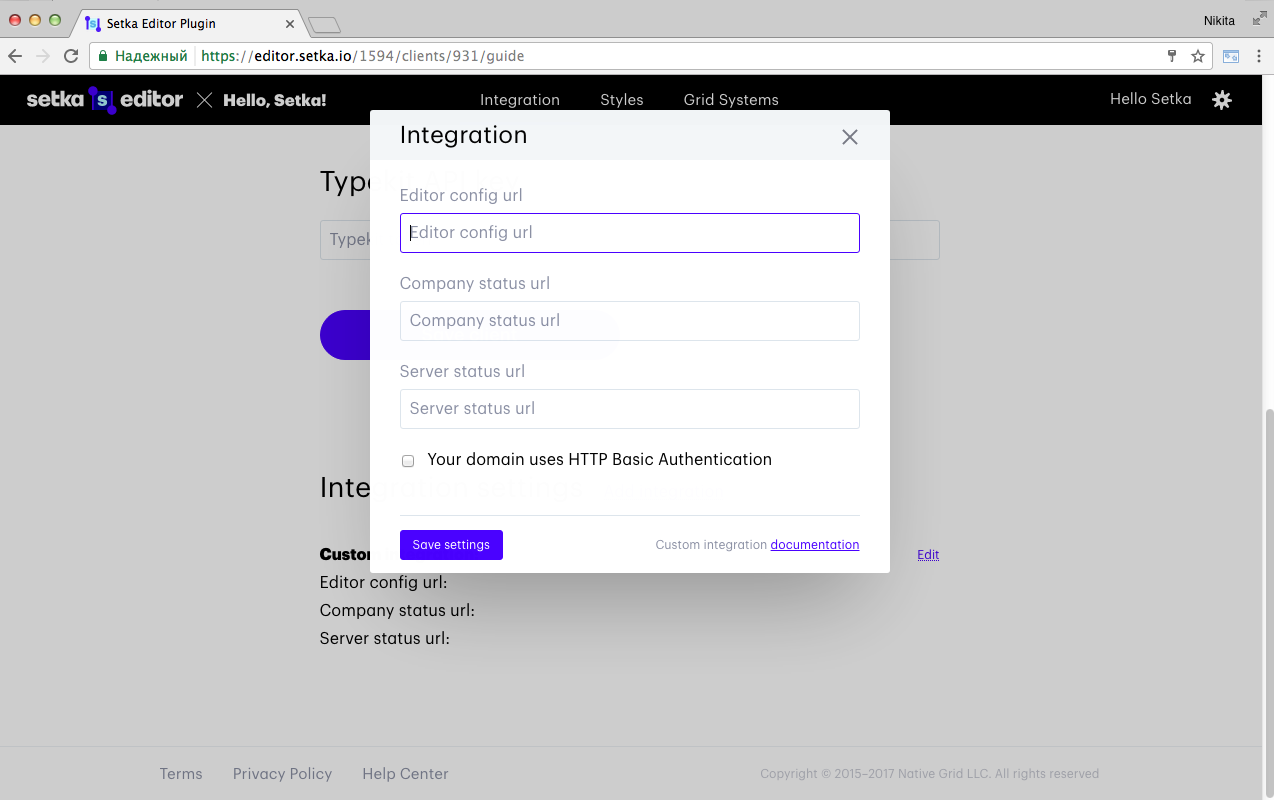 For correct integration all the links must be entered in accordance with the protocol (http/https).
The latest version of the API documentation is available at: https://editor.setka.io/docs/api2/index.html
Ruby on Rails Examples: https://github.com/setkaio/grid-editor-integration
What is a public token?
Public token is a unique id which is used for a number of Setka Editor functions, e.g. commenting, embed links, snippets saving etc. You get your public token within a first sync and it is further used in API queries between Setka Editor and editor.setka.io. Please, save public token on your server after the first synchronisation since it is operated each time you open Setka Editor. Learn how to set public token within an Editor initialisation from here.
Custom integration:
Introduction to Custom Integration